Noah and the Ark
by Dian Ramsey
(Morganton)

Noah and the Ark: YOU ARE GOING TO BUILD WHAT??

Today boys and girls we are gong to take a very long boat ride. You might want to pack some clothes and some rain gear. I hear there is going to be a very bad storm.

We have to meet the man who built this big boat. From what he has told me, he built this big boat, called an ark, and we are going to be with him and his family and 2 of every animal on the earth.

Here we are and there is the man who built this ark.

"Hello, my name is Noah and I am the man who built this ark."

"Hello, we are here to go with you on this journey. I think we have everything we need."

"Yes it looks like you have everything you are going to need for this trip. Let's get you on board and ready to sail."

"Come on, boys and girls. By the way, why did you build this ark?"

"Well, people on the earth are really getting to be very bad and God made this world for everyone to enjoy and to have peace and love one another and God. God spoke to me and told me that he was so sad and angry at the way the world was that he was going to destroy it with a really bad flood. From what God told me, my family and I are the only people here that love God and try to do what he wants us to do with our lives. God told me to build this big ark, and he told me how to build it and exactly what it was suppose to look like. I can tell you that the people in my town thought I had lost my mind. As you can see there are no rivers, lakes, oceans or even any water in this land. When they saw me building this ark and telling them that there was going to be a big flood, well they thought I had lost my mind. You see, we have not even had a drop of rain here."

"I can see why they would think you were a little crazy, can't you boys and girls?"

"I kept telling them that God was going to destroy the whole world with a flood and that if they did not want to die, they would have to stop living the way they were. This made them really laugh at me and my family. I was the joke of the town. They finally just ignored. I kept doing what God wanted me to do. When God tells you to do something, he means business. He never asks us to do something that we can't do. He us if we are willing to follow his will and do what he wants us to do. So I kept on working on the boat for many years and finally finished it. It is just the way God wanted it to be. I have all the animals on board and my family is on board. Let's get on board."

"By the way, why are we taking so many animals on this boat? This seems a bit too much for this boat to carry."

"God instructed me to take 2 of every animal on the earth. He said to take a male and a female of every kind of animal. God just said to do this, so I did."

"If you are ready, we need to get you on board so we can get started,"

"We are ready. Come on boys and girls, let's load up and get ready to go."

"Look, boys and girls, the door is shutting by itself. This is so hard to believe."

"Yes, God is closing the door. He wants us to be safe and sound during this flood."

"By the way, Noah, why are we taking so many animals? We don't understand and how will they survive this long trip without being able to get the food that they eat?'

"You see, God told me that I would need to take enough food for each of them on this trip. I have followed his instruction and we have enough food for each one of them. My family and I will care for them and see that they have enough to eat. These animals are God's creatures and God has given instructions for them to be taken care of while we are on this trip."

"Did you hear that boys and girls, God even provided for all the animals on this ark? This is so amazing. Look boys and girls, the sky is getting dark. We are going to have a really bad storm. Maybe we should get inside before it starts."

"It has been raining for a very long time and the whole earth is completely covered. We can't even see any mountain tops. There can't be anything left alive on the earth. We are the only ones alive. This is really kind of creepy. I wonder if we will ever see land again. Will we see land again Noah?"

"God promised us that we would be saved and I believe that he will save us and allow us to go back on the earth to live. I really don't understand all that is going to happen, but I know when God makes a promise, He Keeps It!"

"Oh, look, boys and girls, there is a big breeze blowing. This sure feels good after so much rain. I hope this means that this flood is over."

"Noah has opened the window and I can see that the water is not as high as it has been. What is he doing? It looks like he is letting one of the birds fly out of the window."

"It seems the bird is just flying back and forth. Maybe it cannot find a place to land."

"Well it has been seven days now and he is letting out another bird, but it came back. I wonder if the water will ever go back so we can get back to our lives."

"The last one came back with only a twig. What does this mean, Noah?

"This means that the water is going away and that maybe soon we can come off the ark and starts our lives again."

"That sounds great. This has been such an interesting adventure. I did not know how we going to survive on this big ark with all these animals for such a long time without anything bad happening, but it are true; God did take very good care of us. The animals seem to be quite happy as well."

"God promised me that he would take care of me and my family and I believed him without any doubt in my heart. I can't say that I understood all that was going to happen, but I knew if God said it, it would be true. God has never made a promise to me he did not keep."

"He is sending the third dove out. I wonder what this one will find."

"It has been a long time and the dove has not come back. Maybe it found somewhere to live."

"Oh, look boys and girls, the door is opening. The animals are leaving the ark. I guess this means that we are going to leave. Noah, this has really been an adventure and I know that I will never forget this. Thank you for helping us and letting us be a part of this trip."

"Oh look up in the sky boys and girls. There is a rainbow. If I remember correctly, God gave this as a sign that he would never destroy the earth again with water. This has to be the most beautiful rainbow that I have ever seen in my life. God does keep his word and look at this beautiful rainbow. He even gives us something beautiful in return."

I hope you have seen that God does keep his promises to us God gives us these promises and will keep them if we do what he tells us to do. We have seen this first hand. Noah did exactly what God told him to do even though all the people made fun of him and told him that he was crazy. Noah could have stopped his work and given up, but he stayed the course and did exactly what God ask of him. He OBEYED GOD'S WILL FOR HIS LIFE. This is what each of has to do with our lives. If Noah had not followed God's will, we may not be here today, but God knew Noah's heart and knew that he was the man for the job.

God has a plan for each of our lives and if we follow that plan, he will give us many good things. As children, God has a plan for you. He wants you to obey your parents, read you're Bibles, pray, go to church and study his word and do good things to help other people. He wants all the best things for you. You may be too young to build a great ark and go through a horrible storm, but he knows what you can do and all he asks is that you follow him and he will take care of you. I know that after what we have just seen, we can know without a doubt that our God is a great and wonderful God.



Where do we find God's promises?
Let me give you one place in the Bible where you can find his promises. Ephesians 6:1-3 says, 'Children, obey your parents in the Lord: for this is right. Honor thy father and mother; which is the first commandment with promise; That it may be well with thee, and thou mayest live long on the earth.' This tells us that if we do what our parents tell us to do that we will please God and we will in turn live a long time.
How did Noah know God would take care of him?
Another question that you may ask is how did Noah know that God would take care of him?
The answer is found in Romans 8:28 which says, 'And we know that all things work together for good to them that love God, to them who are the called according to his will.' This tells us that if we follow God's will, everything will be just fine.
You see boys and girls; God is always there and will always take care of us no matter how big your problem may be. We just have to obey him. If we pray, study our Bibles, go to church, obey our parents and do good to others, God will see to our every need. When someone tells you that you are crazy or that you are a chicken for not doing something that you know is wrong, just follow that little voice inside you. That little voice is the voice of God and he will never let you down.
I hope that you enjoyed our ride on the ark and that you learned that by being OBEDIENT to God, he will make all things good for you.
Our Closing Prayer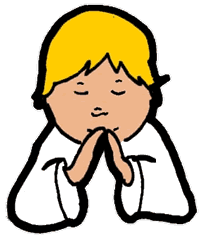 Let's say a prayer before we close.
Dear God, Thank you for always protecting me and taking care of my family. Please help me to always do what you want me to do. Give me the courage to say no to things that are not right and yes to you. In Jesus name. Amen.
I look forward to our next adventure. Remember always to be OBEDIENT and God will take care of you. God Bless You!
Dian