SPIRITUAL GROWTH COMES THROUGH THE WORD
by PAT THACKER
(YORK S.C.)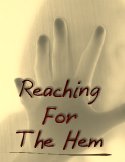 HELLO EVERYONE


I JUST WENT OVER CHRISTIAN MATURITY AGAIN BECAUSE BEING CLOSER TO GOD IS VERY IMPORTANT TO ME. AND I KNOW THAT TAKES WORK IT DON'T JUST COME BY SITTING AROUND,IT REQUIRES STUDY. I AM CLEAVING TO GOD BECAUSE HE IS IMPORTANT TO ME.
WE JUST FINISHED A BIBLE CONFERENCE(JUNE 2-5) HERE AT "THE HEM" IT WAS SO GOOD AND I THROUGHLY ENJOYED IT!!
I WANT TO ENCOURAGE EVERYONE THAT MISSED IT TO GO BACK AND SIGN UP FOR THOSE COURSES IT WILL BE WORTH IT,
AND IF YOU ARE REALLY SEEKING TO DRAW CLOSER TO GOD IT'S TIME TO ACT LIKE IT AND STUDY TO SHOW YOURSELF APPROVED
~~REMMEMBER WE CAN'T FOOL GOD HE KNOWS WHEN WE ARE REAL,AND FOR GROWTH YOU MUST BE WILLING TO STUDY GOD'S WORD. THE SCRIPTURE SAYS IN PSALM 42:1
"AS THE HART PANTHED AFTER THE WATER BROOKS,SO PANTED MY SOUL AFTER THEE, O GOD."
I LOOKED UP THE WORD HART; AND FOUND OUT THAT THEY CAN WEIGH UP TO 300 LBS.UNLIKE THE GAZELLE THE HART MUST HAVE MORE WATER~~MORE WATER WHICH IS FOR US THE WORD OF GOD. WE NEED MORE OF HIS WORD STORED UP IN US SO THAT WHEN WE NEED IT THE HOLY SPIRIT WILL BRING IT UP TO US,THE WORD IS ALSO A NEEDED SWORD.
LOVE IN CHRIST PAT
Return to The Spiritual Growth Online Bible Study Group.