The Change IS Coming…Part Two
by Alissa Lynne Griffith
(Pittsburgh, PA )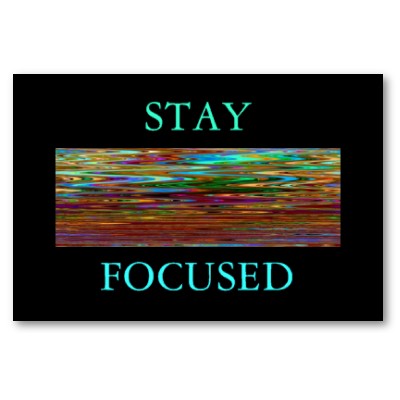 The Change IS Coming…FOCUSED


Part II in The Change Series

We understand to begin to have change in our lives, we have to have knowledge but in knowing the knowledge what does this lead to, what is supposed to happen next and when is it going to happen. These are the things that many of us struggle with the most. We know what the word of the Lord says but how to we act the word out in our life, how do we truly wait on the Lord and know when to move.

When we are given the opportunity to live in Christ, we are given the opportunity to live a life of good and happiness, with trials and tribulations that will bring us closer to the Lord and make us even stronger in Him. It is in this we must relax and enjoy our lives.

There is a picture that I put on my page with a quote from some group but the quote states: "Don't dwell on what went wrong. Instead, focus on what to do next. Spend your energies on moving forward toward finding the answer" Yet someone stated that it was hard to do… I applaud them for admitting that they have a hard time doing this because they are not alone.

I learned one thing that I want to share with you:

FOCUSED…

This word is a key word in living for Christ and staying on the path that helps us to live our lives and being able to adapt to the change that comes our way and allows us to have a better handle on life. I attended a women's day at El-Bethel Church in Wilkinsburg, PA that was so awesome and informative that I must share with you (again) what I learned.

Each lesson, I will leave you with a nugget from the lessons and may it help you. FOCUSED stands for: Faithful – Occupy – Commitment – Unified – Steadfast –Encouraged and Determined. This alone should help you understand how we must be so that we can live for Christ as He has called us to be.

This week – Faithful is our word!

Lamentations 3:22-24 (KJV) - It is of the LORD's mercies that we are not consumed, because his compassions fail not. They are new every morning: great is thy faithfulness. The LORD is my portion, saith my soul; therefore will I hope in him.

These verses say it all about faithfulness. He is faithful to His words, He is faithful to us, He keeps us in Him and faithful in doing so…yet my question is are you faithful in Him?

Many times we walk around knowing that God is faithful, but yet we are not faithful to Him. We say we want to be but when our backs are against the wall, we stop and do not move forward. We will not step out and allow the changes to come as they should. We stop the blessings that are coming our way because we stop having faith that things will be as God says it will be.

It is in our faith and faithfulness in the Lord His promises come to pass. Yet how to you remain faithful to the Lord…are you faithful in your reading of His word, faithful in prayer, faithful in attendance in church by being an active member of the church, how about are you faithful in trusting Him and doing what you hear Him telling you to do?

If you answer no to these questions…guess what God is good and merciful…thank you Lord for being so merciful to us – yet it is time to make that change in your life…make the change to be faithful to the Lord by doing what His word says. It is not as hard as we make it be, but it is in stepping out on faith and trying that the difference will come.

When we walk in faith, we put aside our own thinking, our own desires, our own wants and we do what His word says…His word says that we are to love Him and to take up our cross and follow Him. We are to trust Him for our needs, for our wants, for our direction, for our love, and basically for all things in our lives. Yet are you doing this, if not today is a good day to start, yet know the minute things begin to roll in this manner in your life, you will find that you are faced with more adversity than before – don't give up and don't stop focusing on your faith in the Lord and whom He is and walk in HIS faithfulness until yours is developed.

It is in our faithfulness in being obedient to Christ and following His words and building our relationship in Him, that our change will begin to form itself before us to the point where we will begin the process of soaring in Christ – anyone want to soar with me in Jesus???

Next time we are going to talk about the word Occupy – why not take the time to look up the meaning of occupy and see if you can figure out what it is you need to do in Christ with this word!