Finding God in a Violent Home: Gemma's Christian Testimony
by Gemma
(York)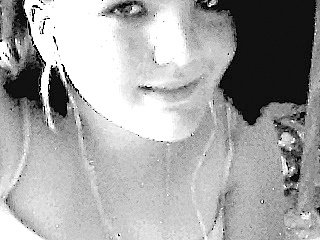 Gemma Now
A Must Read! Gemma's Christian Testimony:
I'm fourteen years old and I live in York, England. My name is Gemma and I have a sister, mum and dad.

I used to live with my sister called Laura, my mum and dad. And when I turned the age of ten my mum started to drink heavily. Every day she was drank, and my dad was a transport driver so he worked for days on end. So we were alone with my mum.

We had to ring ambulances a lot for her and we were left alone for days while she used to be in and out of hospital.

My dad cut down on his hours and was home more often, but the more he was home the more frustrated about my mum he got. He had a very short fuse. He used to hit my mum a lot and beat her and, on many occasions, threatened her with a knife.

During this time my school work went down hill and I was becoming extremely lonely and depressed. I couldn't tell my friends, teachers or family because I loved my mum and dad and I didn't want to harm them.

I became so alone. Then one day at school some people from the local church came in to advertise the youth group at church. Me and my sister decided to go along, and we did. I don't know how, but when we started there I started to feel like I belonged, like I knew I was supposed to be there.

I started going every week, and one week they invited us to go to the family church service.
I went with a friend. When we got there, everybody was so kind to me, and everything from home was pushed to the back of my mind for the duration of the service. It was like God had taken me there so I could come to Him with my problems and He would help me and pull me through it.

I can't remember much about the service. I remember getting confused because they were talking about God's love and that no matter where you come from God is with you.

I started going to church often and I changed personally. My home situation was very much the same, but spiritually I was different. I was whole. I was no longer lonely or depressed because everything I needed was with God. No matter what happened, I soon learned that where God is there is peace.

I invited God into my life and I shared everything with Him. All though God knows everything about Everyone, it's always easier to talk about Him and let Him know that you want to talk to Him.

I prayed for a few months about my mum and dad, but things got worse. Mum was in hospital for three months and me and Laura were almost left behind and were witness to some awful beatings and scenes. But I asked God to change the situation and I prayed for Him to come into our situation and bless each of us and give us peace.

My mum and dad divorced and I now live with my mum. I know that if it wasn't for my mum drinking I don't think I would have wanted God as much as I did. I believe with all my heart God did help us and He put it to an end, I just had to ask Him. Although my parents divorced I know that God has a greater power and mind than anyone's and His way is always better than what we could possibly imagine.

I just think if your reading this that you should remember, God can do anything, and God will find you and you have to keep your eyes open.

I know I'm young and immature, but I know one thing.

God is SO amazing. And no matter what, He always loves you! His love really is an anchor through the storm.