Kids Bible Study Ephesians 6:1-3


Obeying Your Parents Makes God Happy!

Fun Ways To Teach Your Child About Obedience




Cherub Wings: Out of Bounds
This program teaches children about obedience and shows them the blessing of doing what is right. In "Out of Bounds" Cherub and Chubby learn that doing just what you want may end up being just the opposite of what you expected!
Includes:
* A visualized prayer
*Illustrated Bible story
*Two kid's music videos
And loads of fun!

---

Josh and the Big Wall!
VeggieTales DVD
Josh and the Big Wall
teaches children a biblical perspective on obedience. Oh, boy! After forty years of wandering in the desert, the children of Israel finally get to go to the Promised Land! Only one little thing they've overlooked, though...Jericho! Joshua has God's directions, but they sound kind of...well, weird. In the end, they have to decide whether it's better to do things their way, or God's way!
This free Kid's Bible study on Ephesians 6:1-3 is the third lesson of your Christian Character Education course.
Just as with the other children's Bible study lessons in this series, I recommend that you and your children sit down and go through it together. This obedience Bible lesson is a great opportunity to talk to your child about being obedient, and why you must discipline them when they don't follow directions.
Learning to obey those in authority is becoming more and more of a lost art. Don't let it be lost with your kids!

Helpful Hint:
Remember, kids learn by repetion. So, it's very important to reinforce what they will learn in this obedience Bible study over time. This is a way for you to help them "renew their minds" to be in line with God's Word.
A fun way to build upon what you'll teach them here would be to introduce a fun Christian cartoon or movie about the importance of obedience. That way they are learning and having fun at the same time.
I have to admit, even as an adult, I LOVE the Chrub Wings Christian cartoon series. They are fun, and truly simplify things in ways that kids can understand.
Their cartoon, "Out of Bounds" will reinforce the importance of boundaries, and why we can't just do what we want when we want.
It's a fun way to help you kids understand that the boundaries you set for them are really for their own good.
**Click Here For a Printable Version of your Obedience Bible lesson
and Your Free Bible Study Activity!**
---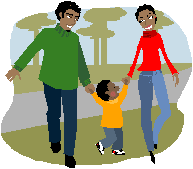 Kids Bible Study Ephesians 6:1-3
Obeying Your Parents Makes God Happy!

Scripture Reading Time!
Ephesians 6:1 (NLT)
Children, obey your parents because you belong to the Lord, for this is the right thing to do.
Do you want to have a good life here on Earth?
God promises that, if you do what your parents ask you to, "things will go well for you, and you will have a long life on the earth" (Ephesians 6:3 NLT). And we know, when God promises us something, it is always true.
God has given us parents to watch over us while we are young because we are still learning about life. He blesses our parents with wisdom, and He helps them to know what is best for us. When we listen to our parents and obey them, we are really obeying God. But, when we do not listen to our parents, we are disobeying God. That is why our parents punish us when we disobey.


Ways to Obey Our Parents:
When your parents ask you to do something, don't wait until later.

Do it right away!



When your parents say No, do not scream, cry, or get upset.

Remember that they love you, and that God helps them to know what is best for you.

Never be mean to your parents or yell at them. When children do this, it makes God sad. Always be nice to your parents, and tell them that you love them every day!


Let's Talk About It!
What does Ephesians 6:1 say is the right thing to do?

When we disobey our parents, who are we really disobeying?

Name one of the ways that we can obey our parents?

Find Out What Else God's Word Says About Obeying!
Exodus 20:12, Colossians 3:20, Ephesians 6:1-3
Extra Blessings Scripture Reading!

Honor your father and mother, as the Lord your God commanded you. Then you will live a long, full life in the land the Lord your God is giving you.
- Deuteronomy 5:16 (NLT)
Questions for Extra Blessings:
How are we supposed to treat our mother and father?
What does God promise to give us in return?
Click on the images below to access
Your free Printable Bible Study resources.
Free Kids Bible Study Ephesians 6:1-3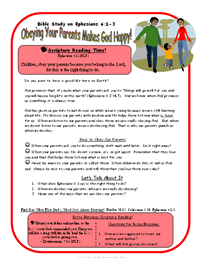 Free Kids Bible Word Search on Family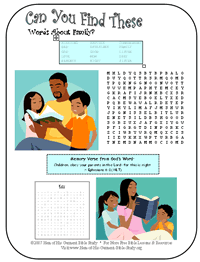 Christian Character Education Course

Finished with your Kids Bible Study Ephesians 6: 1-3?
Click here to select your next topical Bible Study.