Making Family Time Bible Studies


A Memorable Tradition
Lesson 3 of Your Free
Teaching the Bible at Home

Course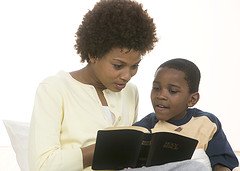 Your Family Time Bible Studies should be the event that everyone looks forward to.
Keeping them fresh and fun will ensure that your kids learn to enjoy time with the Lord.
The way your children respond to your special Family Time will merely me a reflection of how you approach it!


But, if they grow to think that studying the Word of God is boring, or merely a religious obligation, that may become the way that they approach their own spiritual walk.
So, be creative. Find fun ways to spice up your Bible time together. Ask your kids what they would like to do.
This time does not have to be structured like a class or in a stuffy setting. Your imagination is the limit!
Here are a few ideas to get you going. They won't all fit your family's needs, but you may see one or two that are just right!
Do your kids have a favorite meal or restaurant? It could be anything from hot dogs to Chick Fil-A. Save it for Bible Study Night! After the Bible Lesson is over, have dinner and weave what you have just learned into the dinner conversation. Allow everyone to honestly discuss their insights and ideas.
Make it a tradition to go out for ice cream (or healthy smoothies ) as a family after your study time is complete. Reserve this treat for this special family time so that it remains special.
Make it a pajama party! Pop some popcorn and grab some snacks. Let people get into their favorite jammies and sit on the floor, or even climb in bed with Mom and Dad. Make it a fun bonding experience.
Start off with a little praise and worship! Have each person take turns picking a Christian song to start off with. This works particularly well with older children who are beginning to search for their own voice.
Optional
: All current pop music has a Christian counterpart. To get your kids excited about Christian popular music and away from negative secular music, try this:
When it is their turn to pick a praise and worship song, let them download a Christian MP3 in the genre that they choose. You can download Christian
Hard Rock
, or even
Christian Rap and Hip Hop
songs that glorifies God for under $1!
Is it nice outside? Take advantage of it. Grab a picnic and move your Bible Study to the backyard or even to a park.


If you have children who are old enough to read, let them take turns reading the study scriptures out loud.


Have a drawing! Fold up the various Bible Scriptures or Study Topics and put them in a hat. Or use these fun Christian family conversation starters. Let someone new pick the topic each time you come together.


Have older kids? Give them the lesson's scriptures a week ahead of time. Make it their responsibility to come up with a fun way to present them to the family and guide the discussion.


If none of these fit your specific family, sit down as parents and make your own list. Better yet, make it a family thing! Sit down with the entire family and brainstorm a list of your own fun Family Time Bible Study ideas! What would your kids think is fun?
Now that you have completed your free mini-course on holding your own Family Time Bible Studies, I hope that you feel ready to start having Bible time with your own family.
If you are ready to get a jump start on using what you've learned here about teaching the Bible to your own family, the Family Walk Devotional is a great place to start. It deals with topics that are important to today's youth, and helps them apply God's Word to their lives.
I pray that this mini-course on how to teach the Bible to your kids will help you make Family Time Bible Study a tradition in your family that gets passed down from generation to generation.
Free Christian Parenting Course: Teaching the Bible At Home
Finished with these Family Time Bible Study Tips?
Click Click here to select your next topical Bible Study.