Receive Some Bible Inspiration!
Encouraging Jewels for Life's Journey
With Your Bible Study Leader
Minister Marlene Taylor
Why are you cast down, O my inner self? And why should you moan over me and be disquieted within me? Hope in God and wait expectantly for Him, for I shall yet praise Him, my Help and my God.-Psalm 42:5 AMP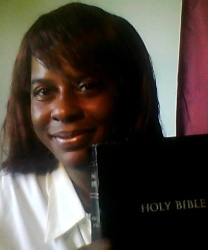 Min. Marlene Taylor:
Bringing You Bible Inspiration Online!
Welcome to Encouraging Jewels for Life's Journey!


We all need Bible inspiration as we journey with Christ on the path to perfection and victorious living. Are you in need of encouragement today? If you are, you've come to the right place.
Encouraging Jewels for Life's Journey is a free interactive bible study group offering scriptural encouragement, Christian inspiration and jewels of wisdom from God's word.
A Little Bit About Me...
I'm an ordained minister of the gospel and certified Christian life coach. I'm also a mental health advocate and member of NAMI-National Alliance on Mental Illness. I have relevant experience as a mental health support group leader and advocacy speaker.
I write about God's power to heal through Christ. My themed articles address domestic violence, spiritual abuse, addictions and recovery from depression. My writings reflect my own struggles and ultimate victories in the above areas.
My ministry assignment prompts me to proclaim John 8:36 (KJV)
If the Son shall make you free you shall be free indeed!


A major focus of my ministry is making sure that freedom in Christ is made real, in practice, for all who choose to walk in it.
I'm presently working on an M.A. in Christian counseling. My articles have been published in the Journal News, Love Express Christian News, In His Hand's Poetry Anthology, NAMI-Newsletter and Recovery Inc. Magazine.
Why is a Biblical Study on Encouragement Important?
We serve a God of encouragement. God supports and inspires us to put our trust in him. God's love and encouraging words are sprinkled throughout the pages of the Bible from Genesis to Revelation. God loves us and is always encouraging us to trust and put confidence in him. Even when God judged the people of the book, he also offered consolation and hope for the future.
I'm excited about bringing you a bible inspiration and encouragement. I was healed from clinical depression. I look forward to sharing the scriptures that God showed me that were both encouraging and life changing.
The word of God is filled with jewels of encouragement that will glitter and shine upon your life. Encouragement motivates you to do your best. Biblical encouragement is not only motivational but also changes ones prospective spiritually.
The word of God works in you to transform and lift the spirit. God's divine words of encouragement stem from biblical stories. The reports of the lifestyles and practices of God's people offer hope for us today. God's blessed promises are our birthright. If we grab a hold of them and own them, they make life's journey joyful and faith-filled.
Sometimes we may read an encouraging scripture verse but don't know how to carry its hope forward into daily living. This is what this bible study is about. I wish to show you how to harvest the jewels of Bible inspiration God offers, and how to keep them fresh in your mind.
Why should we be encouraged in Christ? What do God's promises mean for us personally? How can we carry God's encouragement with us continually? How do encouraging bible verses empower us for living?
These questions will be explored and answered in this course.
Since this is an interactive course, please feel free to share your thoughts, questions, concerns or your own encouraging bible verse with others who gather here.
---
This Form is For Marlene Taylor's Use Only.
This form is what Marlene, your Bible Inspiration Bible Study Leader, uses to submit your lessons.

To participate in the discussion, you'll be given a separate form after each Bible lesson. We look forward to reading your thoughts there.


Marlene, What would you like to share?
Receive Some Bible Inspiration: Encouraging Jewels for Life's Journey!
Your Bible study lessons are below. As you read each lesson, think about how they apply to your own life.

Share your thoughts and comments using the comment forms below each study.