The Virtuous Christian Wife and Mother
With Your Bible Study Leader
Stephanie Page
Who can find a virtuous and capable wife?
She is more precious than rubies.-Proverbs 31:10 NLT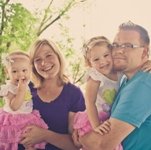 Stephanie Page :

The Virtuous Christian Wife Bible Study Leader

Welcome to our Virtuous Christian Wife Online Bible study Group!
Do you long to be the godly wife and mother that your Creator truly designed you to be?
Discover God's true plan for wife and motherhood as we journey through His Word together!
A Little Bit About Me...
My Name is Stephanie Page and I my heart is for people to know and follow hard after Jesus.
I met my husband on the mission field, and since coming back stateside we lead the 5th and 6th grade ministry at our church. I also love to work with and speak to youth.
I started blogging online in the fall of 2009 and it has changed my life! I believe God is calling me to write and even though I don't know where He will take me, I am eager to step into the unknown and follow. I would love for you to come share life with me at
http://www.sharingthepagesoflife.com
!
About Our Virtuous Wife and Mother Bible Studies Together:
I am excited to tackle the topic of being a virtuous Christian mother and wife. Since I became a mom in 2006, and then again in 2009, God has been teaching me a lot about how my life as a mom and wife fits into His big plan for me.
I am eager to share what He is teaching me with you!
Life is an adventure and God is the one who knows the next twist and turn…
Come along with me for the ride!
---
This Form is For Stephanie Page 's Use Only.

This form is what Stephanie, your Bible Study Leader, uses to submit your lessons.

To participate in the discussion, you'll be given a separate form after each Bible lesson. We look forward to reading your thoughts there.Click here to read your first lesson


Stephanie, What would you like to share?
Your Virtuous Christian Wife and Mother Online Bible Study Group!
Your Bible study lessons are below. As you read each lesson, think about how they apply to your own life.

Share your thoughts and comments using the comment forms below each study.